Are you getting married and organising the details of your wedding? Perhaps you're co-ordinating a business meeting or a corporate event on the Costa del Sol? Perhaps you're arranging a night out but you're not sure where you need picking up and when.
To make the most of your stay in this beautiful part of the world, why not book a dedicated transfer service to give you greater flexibility during your stay?
Why choose a dedicated transfer service with Simply Shuttles
A dedicated transfer service means you pay by the hour rather than an A to B price. So you can book a vehicle for four, six or even eight hours, knowing that whenever you need to go somewhere, wherever that is, there's a dedicated vehicle waiting to take you. The minimum booking time is for two hours.
So where do you want to go? We know the Andalusia region well. So if you're not sure which restaurant to go to, or which bar to choose or which museum to visit, feel free to ask us. We know all the hottest spots – and where to avoid!
24 hours a day, 7 days a week, we can provide a dedicated transfer just for you. When we drop you off anywhere, we'll organise the time and location to pick you up again later. And if there are any issues we have a customer service team in the office that is always available to help.
"The service was excellent: very courteous well turned out staff, always on time and vehicles very clean and ideal for the job. No hesitation in recommending or using again. Well done and thanks!" SMY71, TripAdvisor
Make an Enquiry
Let us take it from here, just fill out the form below and we will be in touch with you as soon as possible to arrange your La Quinta transfers. Thank you for choosing Simply Shuttles.
Get a quote for a Simply Shuttles dedicated transfer
Get in touch with the team now to get a quote and to book your Simply Shuttles dedicated transfer.
Once you've made your dedicated transfer reservation, we'll send you a detailed itinerary confirming all your transfers including pick-up locations, drop-off points, times and dates.
Sometimes the occasion calls for even more luxury and comfort when it comes to your private Costa del Sol transport. Perhaps it's your wedding day and you want to arrive in style. Or you're organising a corporate event or conference and it's important to make an impression.
At Simply Shuttles we offer a deluxe transfer service that gets you where you want to be in comfort and style. All our vehicles are of the highest standards and immaculately maintained but our deluxe transfer services take the luxury up a level.
Choose Simply Shuttle for your deluxe transfers
Our fleet is wide and varied so whatever your luxury transfer needs or requirements, we have the perfect solution. In addition to this, our professional uniformed drivers are helpful, friendly and polite, and of course, will go out of their way to make your experience as relaxing and stress free as possible.
Check out our deluxe vehicles below or for further information go to Our Vehicles page. Our team will be happy to assist you with finding the right vehicle or service for you, simply contact us with details of your required service and we will do the rest.

---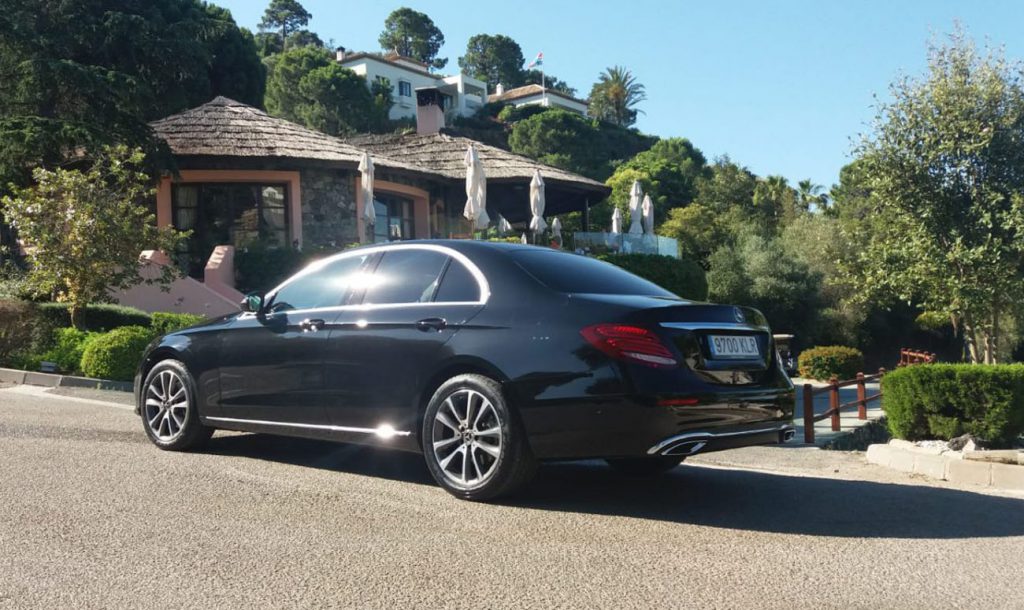 Mercedes E Class
Deluxe Saloon Car – 3 passenger seats
The epitome of executive comfort and refinement. The classic black exterior with privacy glass and sumptuous leather interior make this car the perfect option for those who want to travel in style.
This is a very popular vehicle choice for business executives and discerning couples visiting the Costa del Sol or touring around Andalucía.This is a very popular vehicle choice for business executives and discerning couples visiting the Costa del Sol or touring around Andalucía.

---
Mercedes V Class
Deluxe People Carrier – 7 passenger seats
Offering Mercedes quality combined with space and optimal practicality, our fleet of Mercedes V Class come with a black exterior, chrome trim and privacy glass. Inside you will find the finest leather upholstery and walnut finish.
The spacious seating layout and generous storage area for luggage make travel comfortable and effortless. For small groups or couples with extra luggage requirements, there is no finer vehicle.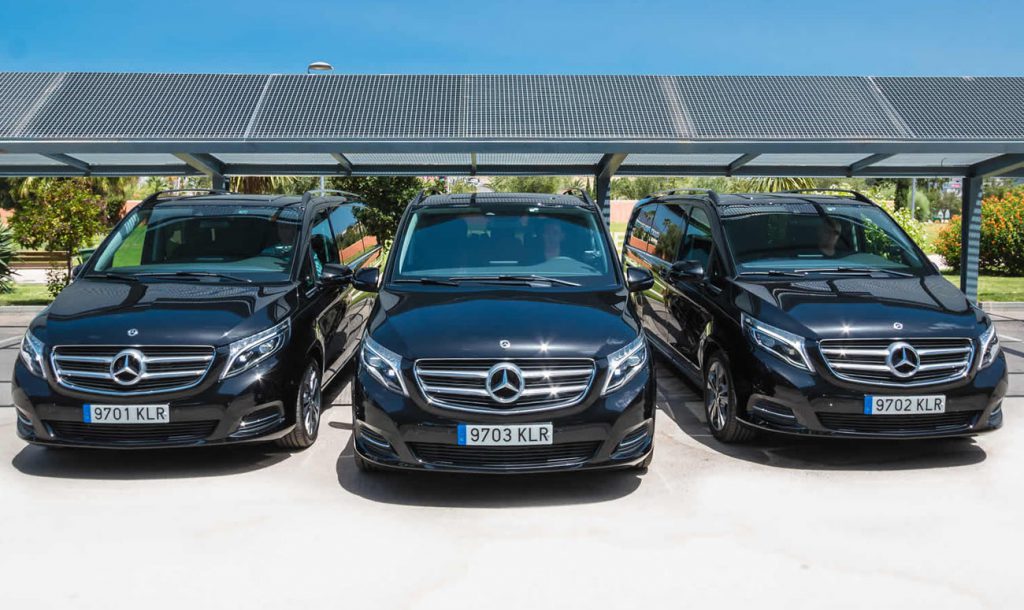 ---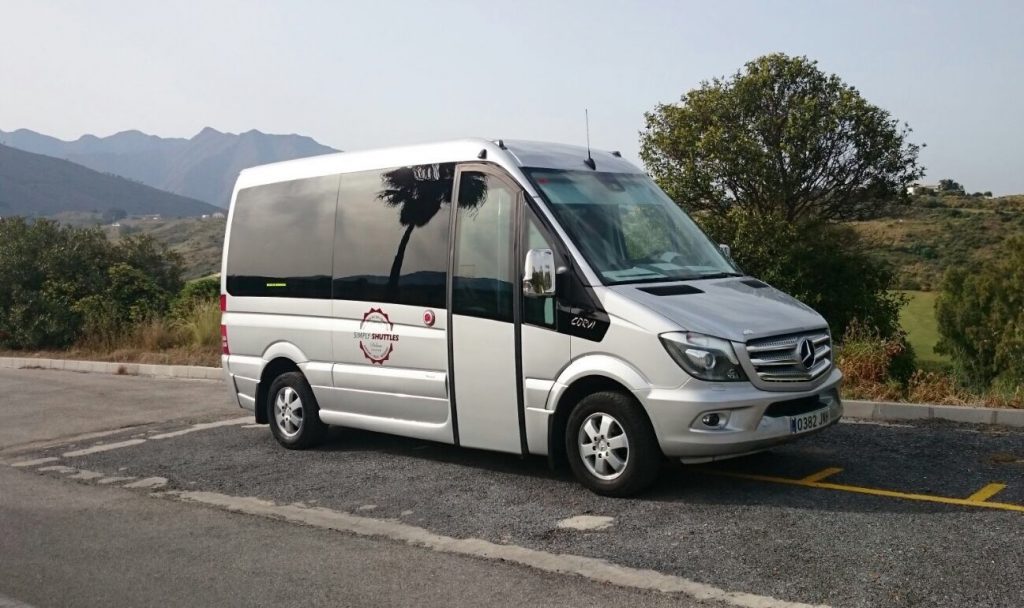 Mercedes Executive Minibus
Deluxe Minibus – 10 passenger seats
The Mercedes Executive Minibus is a one of a kind vehicle that caters specifically to small groups wishing for spacious travel in full comfort. It is a very popular vehicle for weddings and sightseeing day trips, as well as other discretional services. Its short wheelbase makes it a very versatile vehicle when negotiating narrow Spanish country roads or heavy city traffic.

---
Mercedes Executive Microbus
Deluxe Microbus – 22 passenger seats
Our Mercedes Deluxe Microbuses feature customised specifications and offer the best blend of comfort and practicality you will find. Their ability to travel fully laden whilst maintaining excellent ride quality is simply sublime.
Wedding parties, corporate event groups and passengers with longer distance day trips benefit greatly from the smoothness of these vehicles.